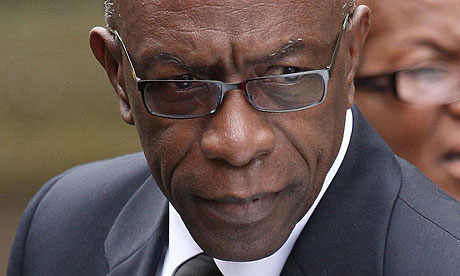 The embattled Confederation of North, Central America and the Caribbean Association Football (CONCACAF) says it plans to co-operate with authorities to "its fullest capacity", after its president Jeff Webb was among several FIFA (Fédération Internationale de Football Association) officials arrested in Zurich and indicted on corruption offences by the United States Department of Justice yesterday.
The 50-year-old Webb, a Caymanian, was among high-level officials gathered in Zurich for tomorrow's FIFA presidential elections, where the long-serving incumbent Sepp Blatter is expected to be re-elected.
In a 47-count indictment implicating nine present and former FIFA officials, along with five corporate executives, the US Department of Justice alleged an elaborate 24-year scheme involving US$150 million in bribes and kickbacks relating to media and broadcast deals for a plethora of football tournaments.
The 14 have been charged with racketeering, wire fraud and money laundering conspiracies, among other offences.
Trinidadian Jack Warner, a former CONCACAF president and powerful FIFA vice-president, has been named among the 14, though he resigned from all football-related activities four years ago.
Warner, having turned himself in to police following a US request for his extradition, appeared in a magistrate's court in Trinidad and Tobago and was released on TT$2.5 million (US$394,457) bail.
Warner, who appeared before Chief Magistrate Marcia Ayers-Caesar, was ordered to surrender all his travel documents and will reappear in court on July 9. He faces 12 charges of racketeering, wire fraud, conspiracy, and money laundering offences in the United States.
Trinidad and Tobago Prime Minister Kamla Persad-Bissessar, speaking in Parliament yesterday, confirmed that the extradition request for Warner had been made and said "it gives me no pleasure; the member is a member of this honourable House and the matter is now in the hands of law enforcement officials and judicial officials for due process according to the laws of Trinidad and Tobago".
In a brief statement yesterday, CONCACAF said it was "deeply concerned" by the arrests of the officials, including those linked to CONCACAF, but would continue to carry out its operations as usual.
"At present, CONCACAF is not in a position to comment further on the specific allegations, which have been referred to the appropriate legal counsel through the pertinent channels," the statement said.
"CONCACAF continues to operate in the ordinary course of business, hosting all of its upcoming tournaments in a successful and timely manner, including the 2015 CONCACAF Gold Cup."
The Gold Cup is set to be played from July 7 to 26 in 14 cities across the United States.
Media reports said CONCACAF's Miami Beach headquarters were yesterday searched by FBI agents, hours after Swiss law enforcement authorities swooped down on the Baur au Lac hotel in the early hours, arresting among others, Webb, Costa Rica federation President Eduardo Li and Eugenio Figueredo, a current FIFA vice-president and former resident of the South American Football Confederation (CONMEBOL).
The FIFA officials could be extradited to the United States to face charges.
According to the Department of Justice, the corporate executives "agreed to pay well over US$150 million in bribes and kickbacks to obtain lucrative media and marketing rights to international soccer tournaments".
The 47-count indictment alleges the officials were also involved in corruption relating to the bids for hosting World Cup finals, the 2011 FIFA presidential election, along with marketing and broadcast deals.
"The indictment alleges corruption that is rampant, systemic, and deep-rooted both abroad and here in the United States. It spans at least two generations of soccer officials who, as alleged, have abused their positions of trust to acquire millions of dollars in bribes and kickbacks," US Attorney General Loretta Lynch said.
"... And it has profoundly harmed a multitude of victims, from the youth leagues and developing countries that should benefit from the revenue generated by the commercial rights these organisations hold, to the fans at home and throughout the world whose support for the game makes those rights valuable.
"Today's action makes clear that this Department of Justice intends to end any such corrupt practices, to root out misconduct, and to bring wrongdoers to justice and we look forward to continuing to work with other countries in this effort."
US authorities are also investigating World Cup qualifiers held in CONCACAF, the CONCACAF Gold Cup, the CONCACAF Champions League and the CONMEBOL/CONCACAF Copa America Centenario, which is set to be staged in the US next year.
FBI Director James B Comey said the developments had occurred as a result of diligent investigations over the years.
"... As charged in the indictment, the defendants fostered a culture of corruption and greed that created an uneven playing field for the biggest sport in the world," Comey said.
"Undisclosed and illegal payments, kickbacks, and bribes became a way of doing business at FIFA. I want to commend the investigators and prosecutors around the world who have pursued this case so diligently for so many years."
Webb, who took over from Warner following the 2011 cash-for-votes scandal which rocked CONCACAF and FIFA, was set to be formally installed as the confederation president tomorrow following his re-election unopposed last month.
It is set to be his first full term after completing the one unfinished by Warner.
He has become highly visible in world football, installed as a FIFA vice-president in 2012 and also appointed to chair FIFA's Task Force against Racism and Discrimination.
In addition to the US investigations, international media reports indicate that the Swiss prosecutors have launched a criminal case into the bids for the 2018 and 2022 World Cups, to be held in Russia and Qatar, respectively.